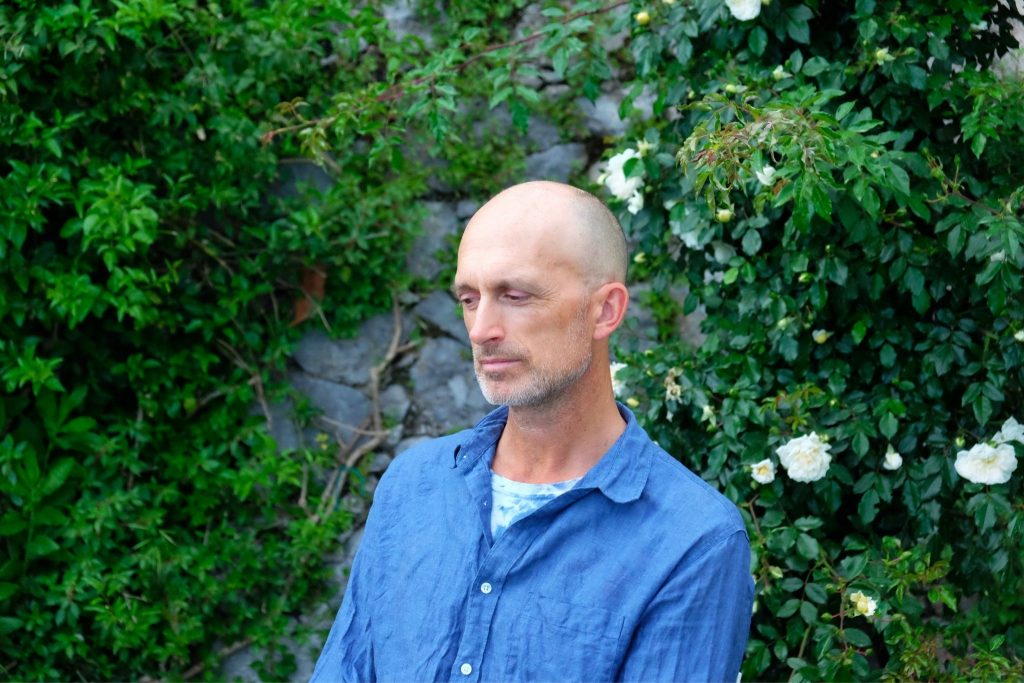 In Praiano, time is an abstract concept that expands and shrinks, dispersing like a whisper in the breath of the sea. Fritz Haeg, the Californian artist guest of Carol LeWitt. He lived for three weeks in the green of Casa L'Orto, with its centuries-old terraces lying in the sun and skilfully converted into organic gardens.

With a transdisciplinary and relational approach, Haeg's work embraces different mediums, including dance, performance, design, installation, and disciplines such as ecology and architecture, attracting community involvement.

Creator of Salmon Creek Farm, an artistic project born in Mendocino, California, «a kind of queer-farm-sanctuary-school hybrid» and former hippie settlement during the seventies, the Californian artist and his collaborators give life to new possibilities for art. This art provides life and of which taking care.

​​Haeg has created and exhibited works in several museums and institutions, including the Museum of Modern Art (MOMA), the Walker Art Center, the Whitney Museum of American Art, the Guggenheim Museum, and the Tate Modern. His work is internationally recognized, with contributions in The New York Times, Financial Times, Frieze, Artforum, The Independent, etc.

We interviewed him.
Marea: Fritz, your relationship with Italy and Praiano is a deep relationship that goes back a long time. Can you tell us about it?
My first encounter with Italy dates thirty years ago when I studied Architecture in Venice. During all this time, I returned several times. I lived for years in Tuscany in a farmhouse. In the mid-90s, I spent a year in Rome, and in 2010 I studied for a year at the Academy. I also spent a year and a half in Abruzzo, in a farm, working on various art projects. I came back every season for a few weeks.
And then there was Praiano. Together with Casa L'Orto, it was in my thoughts for a long time. Carol LeWitt first invited me eleven years ago when I spent a few days here with her. She told me the story of this place and made me know the terraces that stud these countries. Speaking of Casa L'Orto, she always told me: «When you want to come back, it is always here that awaits you.» It took some time, but I finally got a chance to do it. Incredibly, eleven years have passed since my last trip to Italy. This previous period here in Praiano has been very deep and intense. It helped me reconnect with this land.
Marea: In 2016, you created Salmon Creek Farm (SCF), your total artwork. A space of art and life experimentation where you work every day to create new forms of community between moments linked to dance and performance, writing, and reading. Communities were able to live together through the values of sharing, simplicity, and environmental sustainability. Tell us about the story from which SCF draws nourishment and what are your future projects? Have you noticed points of contact with life here in Praiano?
Salmon Creek Farm is a long-term art project born from multiple minds. It's a commune queer-farm-sanctuary-school hybrid, three hours from San Francisco. It was founded in 1971 on the Mendocino coast of Albion, California, by a group of young hippies engaged in a countercultural revolution in the United States, which was actually a global revolution. SCF is placed in this cultural context, characterized by student protests of the late 60s. They were young people who protested against the war in Vietnam and opposed consumerist conformism while promoting issues such as civil rights, gay liberation, and environmental awareness.
Obviously, they were also very interested in the rise of a feminist movement and an environmentalist movement, which was called Gay Culture or Gay Radicalism. In the late 1970s, a particular social and environmental movement occurred. Turning their backs on the systems they no longer believed in, they learned to build their own houses, create their own clothes, to grow their own food by living in the community. A place like Praiano lives a relationship with the territory thanks to the community's connection with the land. These are straightforward, universal, timeless truths.
At Salmon Creek Farm, I am starting a non-profit organization with a board of directors and managers for its management. It will be a place of spiritual retreat for six months a year, of fusion and harmony between artistic and environmental practices. For the remainder of the year, it will present an educational program on which we are working. Perhaps I will be able to return often to Italy. It is something I am already thinking about.
Marea: After these periods at Casa L'Orto and on the Amalfi Coast, which are the elements or aspects that have fascinated you, and will you take them with you when you return home? How has your relationship with this place evolved during your stay in Praiano?
I spent three weeks on the Amalfi Coast. During this time, I had a chance to take a break from everyday life at Salmon Creek Farm. It was profound to be able to be in a relatively slow, quiet, earth-connected place, which is what I hold most dear in my work, along with ecology and the theme of community. This aspect I perceive in an intense way here in Praiano and is something that Carol always points out when she talks about this place and its history, a deep relationship to which she is very connected and on which she is doing a lot of research.
My time here in Praiano allowed me to meditate on the following chapters of my life and work. It's been constructive because it's not something you can think about when you're in the middle of life, especially with my work at Salmon Creek Farm. I've been very busy with this story of resourcefulness, simplicity, and the ability to make the most of resources. The ability to grow their own food in the ancient terraces that stud the coast connected with the sea. The aspect that struck me most during my first visit to Praiano was the difficulty of living in such an isolated place. And then you have to be enterprising and connected to the community. You depend on other people, use everything, and circularly recycle everything.
I think we've lost touch with this way of life today. Today we invest our energy in big cities, which causes a lot of waste, avoidable with a general disconnection and an understanding of where your resources come from and where your waste goes. Simply, this dispersion does not occur in a small village like this or living in the woods as we do. I hope to return to Praiano soon. I feel deeply that I have a future job to do here, but I still don't know what form it will take. This period has been extraordinary. After two years of the pandemic, they all wonder what kind of life they want, what they are for themselves, and what they need. Finally, for the first time in a long time, I had the opportunity to think about what I wanted to do. I start from Praiano with many thoughts on the future, hoping to spend more time here and on the Amalfi Coast.